[Minecraft 1.2.5] Obsidian Ingots 2.8
Minecraft Mods
[ April 24, 2012 at 11:10 AM ] 6,345 Views
Obsidian Ingots 2.8
Hey everyone!
Do you want a professional, easy to use "obsidian ingots" mod? Well here you go – Obsidian Ingots!
This mod brings you those feature you always wanted: super powerful obsidian armor, and amazing obsidian tools.
Beside from this, Obsidian Ingots brings a new resource into the game, "Platinum," which is slightly more powerful than gold! Even more, you can make those precious Lapis Lazuli tools you always wanted! The mod doesn't actually change much. The first thing you will notice is the new use for obsidian blocks. If you smelt an obsidian block, you will receive one "Obsidian Ingot." With this, you can craft armor, weapons and tools just like you can with other resources. The tools are very powerful, even more than Diamond. The armor is even better, it has amazing resistance against falls, mobs, and fire.
Videos:
Crafting Recipies:
Basic Recipies:
Obsidian Ingot:
Obsidian Blocks:
Platinum Ingot:
Platinum Block:






Platinum Ingots:






Obsidian Workbench:






Obsidian Workbench In Action:



Tool Recipies:
Obsidian Paxel:
Obsidian Pickaxe:
Obsidian Axe:
Obsidian Shovel:
Obsidian Hoe:
Obsidian Sword:
Lapis Lazuli Paxel:
Lapis Lazuli Pickaxe:
Lapis Lazuli Axe:
Lapis Lazuli Hoe:
Lapis Lazuli Shovel:
Lapis Lazuli Sword:
Platinum Paxel:
Platinum Pickaxe:
Platinum Axe:
Platinum Shovel:
Platinum Hoe:
Platinum Sword:
Armor Recipies:
Obsidian Helmet:
Obsidian Chestplate:
Obsidian Leggings:
Obsidian Boots:
Lapis Lazuli Helmet:
Lapis Lazuli Chestplate:
Lapis Lazuli Leggings:
Lapis Lazuli Boots:
Platinum Helmet:
Platinum Chestplate:
Platinum Leggings:
Platinum Boots:
Gallery:
Sword in Action:

Finding Platinum:
Tools in Action: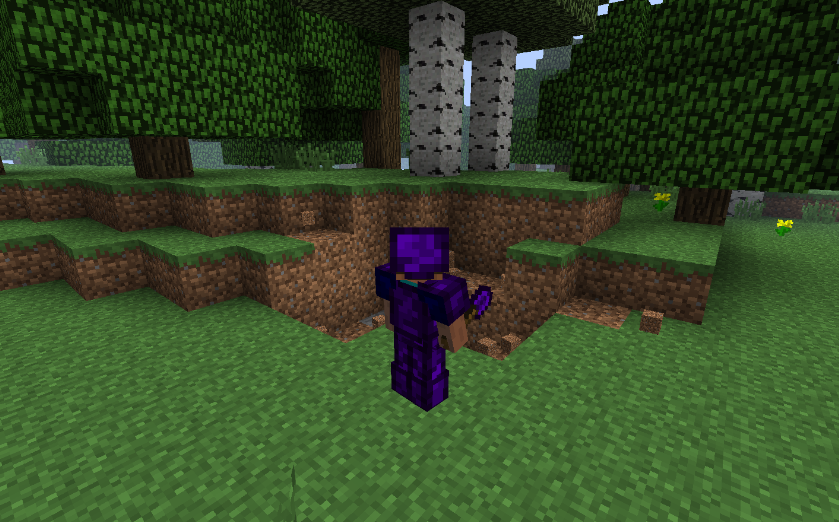 Inventory in Action: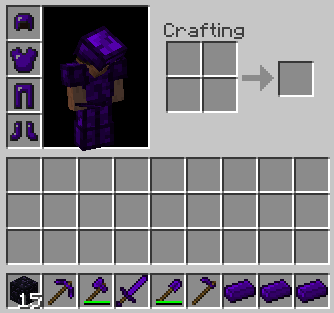 Proving TMI Works: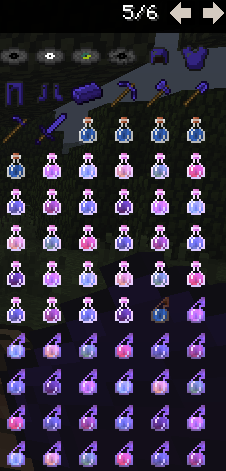 Install Instructions
You to have already installed ModLoader and ModLoaderMP 1.2.5.
There will be two files:
PC:
AFTER INSTALLING MODLOADER AND MODLOADERMP:
Click on the 'Start' menu, and click run. In run, type in, "%appdata%". From there, locate the .minecraft folder, and open up bin.
Using WinZip (or some other unarchiver), open up the minecraft.jar file and place all the files in 'Jar' into it. Then, in minecraft.jar, find the "armor" folder and place all the files in 'Armor' into it.
You can close out of all these windows now. Run the game and you should be good to go!
Mac:
AFTER INSTALLING MODLOADER AND MODLOADERMP:
In finder, on the top toolbar, click on the 'Go' drop-down menu and then click 'Go to Folder.' In that text box, type in "/Users//Library/Application Support". Please note to type in your computer's user in the place where I said ". From there, locate your 'minecraft' folder, and after opening it click 'bin'. Locate the file "minecraft.jar", and rename it "minecraft.jar.zip". Double click the renamed file and then you should see a new file called "minecraft.jar".
Throw away the .zip file and open up the new 'minecraft.jar' file.
Drag all the files in "Jar" into this folder. After this, locate the 'armor' folder located in 'minecraft.jar'. Open it, and then drag all the contents of "Armor" into it. Yay, you're finished! Close out of all these windows now, and run minecraft. You should be good to go!
Note:
Be sure to not place the mod's entire folders into the specified minecraft ones, only place the included files.
THIS GAME WORKS WITH TOOMANYITEMS. I am not sure about other mods.
Additional Details
v2.8 (4/22/12)
Added Lightning Rod
No more bad item IDs
Cleaned up server code
v2.5 (4/06/12)
Removed Obsidian Crafting Table
Added Redstone Tools, Armor, Ingot and Block.
Progress: 100% complete
Credit to: aidancbrady from planetminecraft